Gisou honey-infused lip oil is a must to have in your car, in your purse and your travel bag. But there are more best sellers products from Gisou that will steal your heart. Let's get to know the brand first.
Gisou is a haircare brand created by Negin Mirsalehi, a Dutch influencer and entrepreneur. The brand is known for its honey-infused hair products and has gained popularity for its natural and nourishing hair care offerings.
Gisou's signature ingredient is Mirsalehi Honey, which is produced by Negin's family of beekeepers in the Netherlands. This honey is used in various Gisou hair care products, such as hair oil, shampoo, conditioner, and hair masks, with the aim of promoting healthy and shiny hair. Gisou products are often marketed as being free from harmful chemicals and sulfates.
Small tour through the history of Gisou
Negin Mirsalehi started her career when she was studying in marketing becoming a blogger in the beauty and fashion industry being attracted by these subjects. She became one of the fastest growth influencers globally and became well known for her impressive content. Even though her content was concentrated on fashion outfits and beauty, she began to talk about lifestyle and her family bee garden. They were using honey for a lot of things, especially for hair treatments. So this idea started there, they launched Gisou!
Nowadays the brand has a different range of products in their portfolio developing new and innovative formulas for more beauty treatments. Besides the hair treatments we can see the brand has launched some body and face products such as: lip oil, face balm, beauty balm and body oil.
Favorites Gisou products
Let's go straight ahead to see the best sellers of Gisou. If you haven't tried them yet, now it's time to start your journey using their products.
Hair repair serum
It utilizes the power of microencapsulation technology to concentrate the freshest dose of honey into a droplet. The Mirsalehi Honey and Bee Garden Oil Blend is released when these drops are applied, sealing in moisture and deeply hydrating the hair.
For the purpose of repairing the hair and averting further breaking, a plant-based keratin penetrates deeply into the fiber. The antioxidant Keraguard, a heat and UV protectant, shields hair, resulting in healthy hair and shine that doesn't weigh it down. Perfect for your hair to be repaired!
Body oil Golden shimmer
The dazzling upgrade to the honey-infused body oil's original formula is called honey-infused body oil Golden Shimmer Glow. This quickly absorbing, 98% natural solution mixes Mirsalehi Honey and special Mirsalehi Oil Blend to assist the skin become thoroughly hydrated and provide a shimmering finish that instantly makes it more glamorous. Hurry up! It's a limited edition!
Lip Oil
Each essential ingredient works in concert to intensely hydrate, condition, and cure chapped, dry lips. This product is designed to offer long-lasting moisture and protection. Gisou lip oil will definitely hydrate your lips and make them look very natural so it's a must to try!
Gisou Honey Infused Lip Oil combines Mirsalehi Honey, intensely hydrating Hyaluronic Acid, our special Mirsalehi Bee Garden Oil Blend, and natural actives that work together to instantly smooth, plump, and define lips while enhancing their natural colors. Gisou lip oil met a really warm feedback from people this is why it became a bet seller.
This product was inspired by the power of Mirsalehi Honey and hyaluronic hydration. With just one swipe, treat and accentuate your lips with the strength and golden hue of Mirsalehi Honey.
Lips will be softer, smoother, plumper, more defined, and have a naturally healthy shine following each application of this lip therapy oil.  Moreover, Gisou lip oil review from people make the products so loved and searched.
Face oil
This face oil mask contains botanical oils that are cold-pressed. Ideal for a daily face mask! 
Benefits of honey in beauty products 
Moisturizing: Honey is a natural humectant, which means it can attract and retain moisture. When applied to the skin, honey helps to keep it hydrated, preventing dryness and flakiness.
Antibacterial and Antiseptic: Honey has natural antibacterial and antiseptic properties, making it useful for treating and preventing acne. It can help cleanse the skin and reduce the growth of acne-causing bacteria.
Exfoliation: Honey contains natural enzymes that can gently exfoliate the skin, removing dead skin cells and promoting a smoother complexion
Skin Brightening: Regular use of honey can contribute to a brighter complexion and even skin tone. Its gentle exfoliating properties and ability to promote cell turnover can help fade dark spots and pigmentation.
Gentle for All Skin Types: Honey is generally well-tolerated by most skin types, including sensitive skin. It is less likely to cause allergic reactions compared to some synthetic skincare ingredients.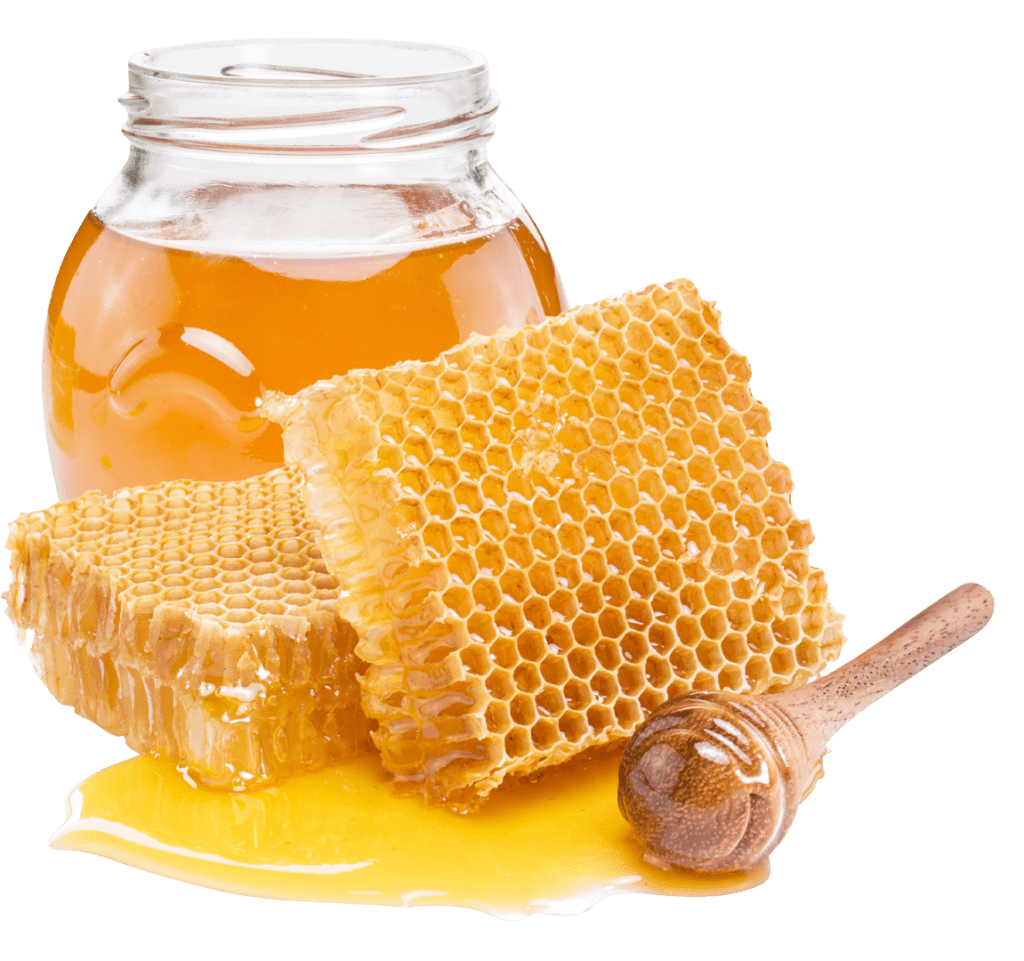 Table of Contents